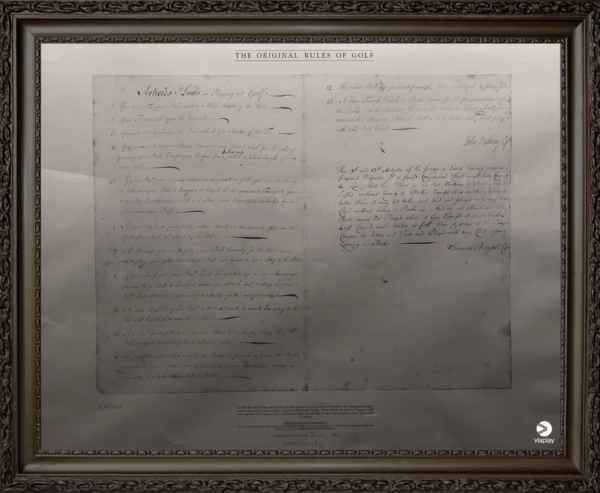 I samband med att vi nu presenterar ett antal regelfrågor här på hemsidan så lånar vi följande inlägg från Viaplay Golf…
För 275 år sedan, alltså 1744, skrev John Rattray de första golfreglerna någonsin.
Flera av dem lever kvar än idag:
1. You must Tee your Ball within a Club's length of the Hole.
2. Your Tee must be upon the Ground.
3. You are not to change the Ball which you Strike off the Tee.
4. You are not to remove Stones, Bones or any Break Club, for the sake of playing your Ball, Except upon the fair Green and that only / within a Club's length of your Ball.
5. If your Ball comes among watter, or any wattery filth, you are at liberty to take out your Ball & bringing it behind the hazard and Teeing it, you may play it with any Club and allow your Adversary a Stroke for so getting out your Ball.
6. If your Balls be found any where touching one another, You are to lift the first Ball, till you play the last.
7. At Holling, you are to play your Ball honestly for the Hole, and not to play upon your Adversary's Ball, not lying in your way to the Hole.
8. If you should lose your Ball, by it's being taken up, or any other way, you are to go back to the Spot, where you struck last, & drop another Ball, And allow your adversary a Stroke for the misfortune.
9. No man at Holling his Ball, is to be allowed, to mark his way to the Hole with his Club, or anything else.
10. If a Ball be stopp'd by any Person, Horse, Dog or anything else, The Ball so stop'd must be play'd where it lyes.
11. If you draw your Club in Order to Strike, & proceed so far in the Stroke as to be e Accounted a Stroke.
12. He whose Ball lyes farthest from the Hole is obliged to play first.
13. Neither Trench, Ditch or Dyke, made for the preservation of the Links, nor the Scholar's Holes, or the Soldier's Lines, Shall be accounted a Hazard; But the Ball is to be taken out teed /and play'd with any Iron Club.
Vad säger ni, visst var det lättare förr? 🙂
https://boagk.se/wp-content/uploads/2019/11/Golfens-Regler.jpg
1618
1971
Mikael
https://boagk.se/wp-content/uploads/2018/12/Logga-300x137.png
Mikael
2019-12-04 18:46:18
2019-12-04 18:46:18
GOLFENS REGLER!